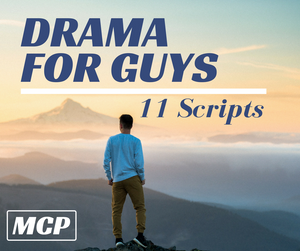 Instantly download 11 of our best dramatic scripts for young men, at one low price. These scripts are tournament-proven, cut for competition, and NSDA approved. 
Scripts Included: 
Revolution by Steve DuBois - New!
In a deeply personal monologue, Benedict Arnold reflects on a life marked by heroism, betrayal, and regret. This work of historical fiction will delight fans of Hamilton and American history. Performers ready to showcase their acting skills will find many opportunities here.
Jack, the Lionheart by Bobby Lebeda - New!
What does love mean when it brings us to the breaking point? David's brother Jack suffers from a severe form of autism, and the strain of caring for him tears the entire family apart. In a brutally honest monologue, David describes choosing between himself and Jack, a choice that would haunt him forever. For actors ready to show the full range of their dramatic skills.
Living in Color by Andrew Messer & Jake Nyberg
Alex has a morbid job: he does makeup on cadavers before funerals.  He does not take his work lightly, but instead invests himself wholly in it, using his focus to recall some of the most crucial moments of his life, and reflect on his strained relationship with his father.  The stunning ending of "Living In Color" will put the final touch on the careful complexion of Alex's revelations. Winner of the 2015 Dramatic Performance Finals at NCFL Nationals, back in print.
My Perfect Feet by Andy Hobin
A veteran returns from the Iraq War, scarred over his whole body from burn wounds he received in combat. He knows that life is never going to be the same, for him or his family. But what he's not prepared for is the reaction of his daughter, who is now scared to look at him or be alone with him. Over the course of this heartbreaking monologue, both father and daughter learn a new and deeper definition of love.
History Lesson by Don Trickseven
Blending dark humor with a devastating double loss of innocence, this piece is perfect for a powerful male performer ready to show the full range of his emotions. A young man tells of his friend Jake, who just killed himself before the end of their junior year of high school. He takes on the task of sorting through some of Jake's stuff, when he discovers Jake's journal, and the terrible secret that drove him to death: an affair with a teacher. Now, he must decide whether to confront the teacher and reveal the truth, or let Jake rest in peace.
Taller To-day by Edith Kirkby
A boy dates his first love in high school. He takes it especially hard when she breaks up with him... and is totally unprepared for what a following tragic event in her life will mean for his. A short, simple monologue that quietly muses on love and its ramifications for young hearts, with a few painstakingly applied verses from Auden.
Red God by Kevin Bushek and Bronne Bruzgo
In this brilliant and fascinating piece, a Russian sniper becomes obsessed with his power to kill. Set during the closing months of World War II, this monologue is a harrowing look at the effects of war on one man's psyche. It's an amazing and moving portrait
Brothers by David Cameron
Laser Tag, Baseball, and Brotherhood. Several years after Troy's mother dies, his father remarries and leaves Troy with an over-eager step brother, Lance. After spending some time with Lance, Troy quickly finds inspiration in the actions of his younger step brother. As one of their lives ends, they find it hard to see how they ever lived without each other. The newest play by Dave Cameron, author of the NFL Final Round HI "Finding Ryan."
The Yearbook by Josh Danz
A brother is super-protective of his younger sister. She always tries to get rid of him while trying to have a good time with her friends. Finally, on the one day he relents, tragedy strikes – and he must deal with the grief, guilt and pain alone. A moving monologue about learning responsibility, best intentions and accepting fate.
No Longer the First by Josh Danz
Ben falls in love with the hottest girl at his school, Alison, as soon as he meets her in science class. Against all odds, she accepts his offer to go out – and they end up falling in love. But after a night of passion, Alison ends up pregnant, and they must deal with the anxiety of impending parenthood together. Even when things don't go as expected, though, Ben becomes a man through his reflections on his love for Alison and his enthusiasm for his new baby girl. A sweet yet gripping monologue.
How to Ride a Motorcycle Badly by Clint Snyder
In this classic monologue, Steve, an artist, recounts his memories of his tough-as-nails father dying of cancer before he had accepted Steve's outlook on life.  Still trying to impress his dad, Steve takes an ill-advised ride on a motorcycle - and learns something big about impressing himself.