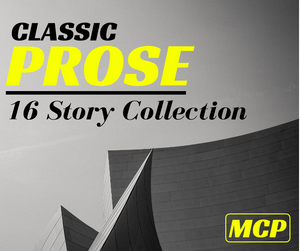 Our first collection of prose pieces!
16 brilliant short stories from legendary writers, selected for uniqueness, character, and suitability for performance. We sorted through hundreds of classic tales to find the pieces perfect for modern audiences and students performers, but not clichéd or overdone.
Authors included: Kurt Vonnegut, J.M. Barrie, H.G. Wells, H.H. Munro, Virginia Woolf, Philip K. Dick, and more!
These stories can all be trimmed to range in time from 5-10 minutes when performed, depending on the performer and cutting. Students will be excited to work with these vibrant pieces. All subject matter is well-suited for both middle school and high school competitors.
EXCLUSIVE BONUS! Two stories by Clyde Hendrickson (author or The Merchandise King and Everyone's Gonna Die). Available only in this collection, these two mythological comedies give readers all the outrageous twists and ridiculous lines they can handle.
With stories from Shakespeare to the 21st century, this collection comes with all necessary information for validating authenticity of the text, including an ISBN and a copyright page.
Order now to be among the first teams to win with this collection!