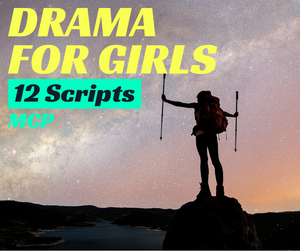 Moving stories told by strong female characters with depth and gravity — plays that will grab the attention of everyone watching your performance.
Download 12 dramatic scripts for young women at one low price. All pieces are tournament-proven, cut for competition, and NSDA approved.  Monologues and multi-character pieces are included.
Scripts Included: 
R.O.R. by Miles Wright (New!)
Two-Character Dramatic Interp or MF Duo
The worst day of Lamar's life is an average day for Judy. He's charged with burglary and assault, and she's the public defender assigned him. Over 10 taut minutes, the two characters race to understand each other, and find they both want the same thing: to make sure Lamar gets another chance. Written for speech competition by a career public defender, this challenging, timely, and dramatic piece will absolutely propel your best actors to final rounds. 
One Man's Trash by Frank Smith  (New!)
Two-Character MF Duo, Dramatic Interp
While packing up the home of their recently deceased parents, a brother and sister come across items that trigger memories...very different memories. Although the sister is initially defensive when the brother recalls a more toxic environment growing up, she is ultimately able to see that maybe their experiences growing up were sadly too similar.
Sister of Mercy by Clyde Hendrickson
A teenage girl accepts that her big brother died in the Iraq War; she's proud of him and his bravery. But when protesters show up at his funeral, claiming his death was God's wrath on a nation of sinners, she reacts with the vicious immediacy of a wronged teenage girl. Now, in her confession, she talks about why she took such drastic action, and why it seemed like the only brave thing to do. A stunning and original dramatic monologue for female performers.
Time of Our Lives by Dustin Guzior & Agatha Valenti
Jay and Lindsay have been inseparable since they met in sixth grade, happily living somewhere between best friends and more than friends. We meet them in the final weeks of their relationship, from the week before Senior Prom to the day before Lindsay leaves for college, as a painful truth surfaces – leaving them with nothing to say to each other. This dramatic piece or duo is perfect for high school-aged performers, and will hit close to home for many forensics coaches and competitors.
God, If You're Really Out There by Cynthia Riebesell
After Alana's husband dies in the World Trade Center during the 9/11 attacks, she begins to question her faith in God. As she gives her husband's eulogy, her internal battle between despair and hope comes to a striking conclusion in this moving monologue.
My Tiny Dancer's Hands by Cynthia Riebesell
Ingrid's partner, Molly, goes into a coma after being beaten up by homophobic bullies. Ingrid sits by Molly's bedside and tells their story. According to the South Carolina PFLAG website, 45% of gay men and 20% of lesbians experience physical or verbal assault in high school. However, the percentage is just a number, and the pain that these numbers are trying to describe is often hidden. For Ingrid, the only way to understand others' cruelty is through a journey for peace in My Tiny Dancer's Hands.
A New World by Gabriella Diaz
Immediate and moving, this conflicted character will make a powerful final round impression. In this shattering monologue for a female performer, a young mother brings her family to the United States in order to make better lives for them all, including her aging mother. But this dream quickly turns to a nightmare when her mother is diagnosed by Alzheimer's and descends into confusion and anger. Then there are hard decisions about how to survive in this new world - decisions that can haunt forever.
Nice Boy by Alyssa Zaczek
Jackson Linwood was always such a nice boy - which is why no one would have suspected him as a rapist, at least according to his mother, Martha. Martha Linwood loves her son, but she never would have expected to be visiting her precious baby boy in jail. After spending a lifetime protecting her son from the evils of this world, Martha addresses a throng of reporters and speaks on her son's life, his crimes, and laments one of life's harsh truths: sometimes even a mother's love cannot protect us from our own nature. 
How to Eat Cat Food with Dignity by Clint Snyder
Kids deal with emotional trauma in different ways, and eating cat food to deal with the absence of a mother is this particular young woman's tactic.  Death and poverty are not something kids are equipped to face, but that doesn't mean they are excused from it.  In this wrenching monologue, one girl comes to understand how life can go on in the face of fear.  
The Elephant in the Room by Clint Snyder
Beauty is being redefined in our time.  No longer does its definition have to be a particular body type, a particular style, a particular idea.  But the real world is always different than the ideal, and for the plus-sized teenage narrator of this story, the struggle to convince her parents to see her as beautiful is a task at times charming, at times heartbreaking.  A near-perfect monologue for female performers. 
The Way to the Tree of Life by Shauna Wessely
Transgender teen, Lili Hernandez, has just returned from institutionalization for depression.  Her next challenge is passing summer school gym, but her archenemy prevents her from entering the locker room.  What's a girl to do?  With help from her mother and another unexpected source, Lili undergoes a transformation that has nothing to do with anatomy.
Son of Scrap Iron by Sandra Thomas
A sadly typical scene unfurls in the office of a high school principal. One family's son has been verbally tormented and harassed by another. The bully's parents think their son should get a pass because of their standing, and the principal is tempted to let "boys be boys," and no one but the victim's parents seem to be on his side. But what happens next turns everything on its head, a darkly comic fantasy of how such issues could and should be addressed.