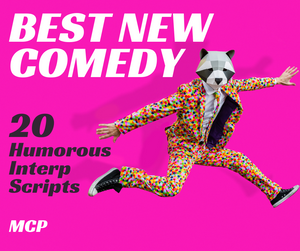 Fresh laughs come delivered by the truckload in this set of humorous speech scripts for all performers looking for comedies, HI pieces, and funny duos.

These are the best new humorous interp pieces for male and female students by witty, clever, and creative authors; every script was published in the last five years. 
Performers will find lots of characters and settings that students today will connect with instantly. Judges and audiences won't have seen these pieces 100 times—these performances bring big new energy to the room.

All scripts come ready to use: They're the right length and tone for competitive performance, with content appropriate for high school audiences. No cutting necessary!
Grab this set today to save 50% on the best new comedies in all of speech & debate.
Plays Included
The Furious Fists of Julia by Kevin Burgun
Multi-character Duo or Action-packed HI
You shouldn't take bites out of other people's yogurt. Especially not Julia's yogurt. For while Julia may appear to be a mild-mannered office drone, she has a past. A past as someone whose job it was to kick major butt. Now, she's after Riley, her coworker who ate the yogurt, and her furious fists will stop at nothing to get her revenge. But wait! Was Riley part of this secret past? Is the ending a surprising battle between the two? The answer is always "more punching" in this parody of the action-revenge genre that will challenge the choreography skills of performers and raise the heartrate of audiences.
Beauty & the Beast: Human Resources by Kevin Burgun
Multi-character Duo or Ambitious HI
When a witch curses your employer with a love spell that turns you and all your colleagues into common household objects, it can cause a lot of performance issues and workplace conflicts. In this wry satire, the witch returns to the beast's castle the morning after placing her curse to walk the coat rack, plate, broom, cup, foot stool, etc. through the ins and outs of their new cursed life in typical corporate human resources style. Want to have a lot of fun with the characters of a well-known animated movie? Then this is the piece for you.
Take Care Of It by Kevin Burgun
Humorous Interp, Multi-Character Duo

You'll be laughing uncontrollably the first time you read this clever, zany comedy! What happens when your wonderful night of sleep is shattered by a text message sent by two dimwitted scammers? Well, if you are a trillionaire, you hire a band of ex-soldier mercenaries to "take care of it". The play features so many amazing comedic characters for performers to work with, as the hapless scammers and the far-too-grizzled mercenaries struggle to figure out exactly what "take care of it" means.  
So You Want to Date a Superhero by Kevin Burgun
It's the most popular gameshow on the planet! Will the heroic Princess Dana find her true love? Her options include: Steve, a stud ready to settle down; Ryanne, who has a fair bit of attitude; and Trevor, a quiet guy who is quite terrified of Dana's superpowers… especially once he figures out that her boyfriends tend to get captured by the bad guys. The winner is undecided until the final moment, and there are tons of zippy one-liners and awkward moments along the way. This script is SUPER as a Duo or a Humorous Interp.
Swipe Up! by Clyde Hendrickson
Two-Character Duo (Although one character goes through a LOT) or High-Energy HI
Val's addicted to her phone—and a new gadget will take it to the next level. Val just needs her best friend Nik to play along. For 10 rollercoaster minutes, the pair dive inside of TikTok, where Nik is forced to act out viral dances, weird personal stories, insane glow ups, and stuff too strange to explain. Will their friendship survive the next swipe up? Energetic performers with big presences will make many memorable, laugh-out-loud moments with this manic script from Clyde Hendrickson, the king of 10-minute comedies.
Emily's Post-Apocalyptic Book of Zombie Etiquette by Lauren Hance
Multi-Character Duo or Humorous Interp
Years after the HN666N7 virus breaks out, most humans have become zombies. In efforts to bring back the decorum of a more civilized society, Emily has written a revised version of her classic book Etiquette. Will the zombies take her advice, or will natural instinct take over? What do you do if you're shaking hands with someone and their arm falls off? The answer, Emily tells us, is not to eat the arm! Lots of clever laughs and physical comedy in this fun new play.
20 Questions and a Motive for Murder by Stephanie Christensen
Humorous Interp, Multi-Character Duo
Professor Singh and his assistant Priscilla have invited his students over for an end-of-semester "celebration" dinner. The main event is a game of 20 questions, which will reveal Professor Singh's least favorite student. However, it soon becomes clear how high the stakes are: the "winning" student will be murdered as a lesson to the others! Now the rag-tag gang of students have to band together to escape, even if it means a failing grade. A classic humorous piece with fantastic characters. Our favorite part? Lots of fun to be had with the audience, who unwittingly join the chaos within the flow of the show. One-of-a-kind fun!  
How Tybalt Capulet (Almost) Saved Italy by JD Holzmann
The story in this script is familiar: Shakespeare's Romeo and Juliet. This time the tragic tale is told from the perspective of a minor character, Juliet's cousin Tybalt. perspective. Through puns and vanity, the story unfolds in a far more ridiculous manner than you might remember, leading to the titular character's untimely demise.  Whimsy and rhyme abound as familiar characters become fortune's fools in this delightful new comedy for performers of all levels.
Pinocchio: No Strings Attached by Joseph Lynn and Brian Sams
How does Pinocchio the wooden puppet finally become a boy? By trying cigarettes, going to Hooters, and taking extreme measures to rid himself of his nemesis, Jiminy Cricket. Along the way, performers get a chance to try their worst Italian accents, break dance, sing the blues, and of course do Pinocchio's famously annoying voice. This classic script is finally available again — and it's ready for your most outrageous students.
In a Jam by Matt Mills
When their bus abruptly abandons them in the desert, a teen finds a hyper-competitive jam festival, from which there is no clear escape... A short, silly, weird comedy with a lot of substance for any performer to work with.
An Introvert's Guide to Quarantine by Mike Noland
Humorous Interp, Monologue
In this stand-up style short play, our shy narrator discusses staying at home during COVID-19 isn't so bad, despite some interference from parents and the new inconveniences of online school. Plenty of opportunities for laughs in this light, fun piece with a heartfelt ending. Note: the author has provided a few alternate lines to make the script work for guy or girl performers.
Soccer Moms (and a Dad) by Clint Wooderson
Humorous Interp or Multi-Character Duo
Matt, an easygoing dad, somehow gets talked into coaching his son's soccer team.  While neither the dad nor child are excited about the season, the moms of the other players have more than enough enthusiasm to make up for it. Their demands and complaints power a journey of discovery for Matt… discovering that coaching his kid's soccer team is worse than he could possibly imagine! Cute, clever, and plenty sarcastic.
Office Case by Matt Mills
When their company eliminates vacation days, two scatterbrained employees set out to rob the place, seeking the freedom to find their purposes in life.  The rapid-fire dialogue and take-no-prisoners sarcasm means this comedy has the potential to leave audiences in stitches.
A Trip Through "Monte Carla" by Elly Bogle
Humorous Interp or Multi-Character Duo
A fast-paced twist on the typical "everything that can go wrong, will go wrong" short play. Carla's parents get secretly divorced, her boyfriend tries to kill her, her mom dies and her dad disowns her, and she contracts a lot of disease. But she keeps her head on straight and stays witty to the end, even when the end is very dark. There's a laugh in every line in this outstanding HI and Duo that will have audiences everywhere falling for Carla (sort of). 
Screaming Timmy Must Die by Steve DuBois 
Humorous Interp or Multi-Character Duo
A dark comedy of elementary school madness! At Mephisto Elementary, the premier school for young supervillains, evil abounds. But even the toughest baddies are no match for Screaming Timmy, a young man with a talent for driving others mad with his patented shriek. So the mischievous students must team up to stop Timmy… which is easier said than done when they're all, well, very bad. Quick wit and clever super hero sendups abound in this maniacal multi-character script.
Going Down by Frank Smith
A pair of apartment neighbors who hate each other must work through their differences when the elevator in their building goes out. Forced to walk down 24 flights of stairs together so they can go to work, they argue, learn, and encounter stranger but equally annoyed neighbors from the lower floors. Going Down is a clever comedy packed with outrageous – and outrageously real – characters.
Johnny Learns Algebra by Katherine Thomas
This comedy brings a bit of humor to the a dry subject – teaching math.  A diverse group of students bring character to the classroom as a teacher struggles to maintain control.  At the end of the day, a simple country boy explains the basics of Algebra to his class and he includes a few life lessons along the way.  Absolutely charming with a couple fun twists, this comedy would be great for novices and experienced performers alike who want to focus on likeable, original characters.
Nora Wants A Baby by Forrest Musselman
A parody of the popular children's show Dora the Explorer in which Nora, a significantly less famous explorer, decides that she simply must have a baby NOW. While Nora's Map, Galoshes, and other friends try to convince her that she needs a career and an education first, not to mention she's only four, Nora remains undeterred. This uproarious comedy is perfect for performers who enjoy *almost* taking things too far. The script also contains the author's instructions for two-person duo performance.
Space Cadets by Brandon Daley
Sarah and Becky fly their own spaceship and make their own rules.  But it can get awfully lonely in space sometimes, and that's why, when John & Scott show up in their own ship, dangerously low on Gooby Perkers, the girls decide to let them come onboard.  Even though the guys are probably shape-shifting aliens.  Hilarity of the extraterrestrial and hormonal varieties ensues!
KTD's by Elizabeth Bogle
In this outrageous comedy new for 2018, Cassie goes to summer camp and learns about a new kind of disease — Kiss-Transmitted Disease.