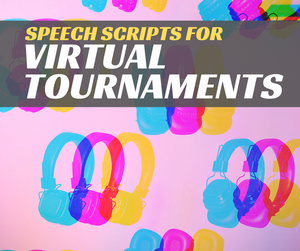 Fall 2020 Sale—For a limited time, take 40% off the cover price of this new collection.
We know you have a lot of concerns about how, when, and where students will compete at speech tournaments this school year.  To help you with one piece of the puzzle, we selected 20 comedies, dramas, and duos that students can use whether they're at home or in the classroom, in front of people or on a video connection.
These scripts will make an impression from far away. Big characters, clear stories, and strong themes mean students' talent and hard work will stand out even over a zoom call.
All 20 scripts come from our library of tournament-winning scripts, including national finalists and recent releases. They're all the right length and format for competition, too, saving you another step as you prepare for fall. 

And when your students end up back at tournaments? These larger-than-life pieces will shine in front of a big audience too.
We created this collection especially for the 2020-21 school year. We've heard from educators around the country that you need help planning for the unknown. We're to help you and your students any way that we can!
-
Pieces Included: 
Comedies
So You Want to Date a Superhero by Kevin Burgun - It's the most popular gameshow on the planet! Will the heroic Princess Dana find her true love? Her options include: Steve, a stud ready to settle down; Ryanne, who has a fair bit of attitude; and Trevor, a quiet guy who is quite terrified of Dana's superpowers… especially once he figures out that her boyfriends tend to get captured by the bad guys. The winner is undecided until the final moment, and there are tons of zippy one-liners and awkward moments along the way. This script is SUPER as a Duo or a Humorous Interp.
Johnny Learns Algebra by Katherine Thomas
This comedy brings a bit of humor to the a dry subject – teaching math.  A diverse group of students bring character to the classroom as a teacher struggles to maintain control.  At the end of the day, a simple country boy explains the basics of Algebra to his class and he includes a few life lessons along the way.  Absolutely charming with a couple fun twists, this comedy would be great for novices and experienced performers alike who want to focus on likeable, original characters.
New Leash on Life by Brady Mueller
A New Leash on Life is about a normal young boy named Kevin, who goes through a not so normal transformation: he's transformed by a mad scientist into a dog. Not only does this provide the opportunity for an unbelievable amount of dog-related puns, it also lets Kevin and his dad see each other in a new light. They have to work together, for maybe the first time ever, in order to change Kevin back into a kid. Hilarious, wacky, and touching.
Mary Choppins by Frank Joseph
Three bright little English children need a new maid... but they get more than they bargained for when Mary Choppins shows up at their door! Her no-nonsense attitude leaves the kids with scars on the inside and out, and leaves the audience in stitches! The children must unravel the mystery of her dreadful appearance before she can carry out her evil plan. Brilliant satire.
The AnyThing by Hank Frederick
Phones and tablets make it tough enough to connect to the real world - imagine if you had something like that inside your brain!  High school classmates Suzie and Jack have big crushes on each other, but they've also got serious love for their AnyThings, special wireless devices that allow them to post anything they think or see to the internet.  Their date, featuring a sad smart car and several hilarious mishaps, couldn't go more wrong.  Will love triumph anyway?  Spoiler alert: yes it does.  Another smashing comedy from this fresh new voice.   Great for male or female performers, and makes a great guy/girl duo. 
Moonraker Madness by Marissa Molchansky
Moonraker is, to say the least, an odd high school girl. Armed with a talking diary, she recounts the story of getting the popular boy she loves to kiss her. In the end, she discovers that the popular boy, Jake, was up to no good, and that her best friend Stevie is her true soulmate.
Dramas
An Evening with Julia Maggiano By Bridget Grace Sheaff (Monologue)
Carrie is the 20-something understudy for the famous actress Julia Maggiano in her one-woman show… and she never expected she would actually have to fill in for this titan of the stage. But when Julia is late, Carrie finds herself in front of a grumpy audience, realizing she hasn't quite memorized the script and isn't right for the part, anyway. This nightmare scenario is full of genius cringe-comedy and authentic wit, as well as real emotion as Carrie uses the situation to unpack her recent split from her boyfriend. A one-of-a-kind piece that will win your best performer many rounds.
Living in Color by Andrew Messer & Jake Nyberg (Monologue)
Alex has a morbid job: he does makeup on cadavers before funerals.  He does not take his work lightly, but instead invests himself wholly in it, using his focus to recall some of the most crucial moments of his life, and reflect on his strained relationship with his father.  The stunning ending of "Living In Color" will put the final touch on the careful complexion of Alex's revelations. Winner of the 2015 Dramatic Performance Finals at NCFL Nationals.
A New World by Gabriella Diaz (Monologue)
Immediate and moving, this conflicted character will make a powerful final round impression. In this shattering monologue for a female performer, a young mother brings her family to the United States in order to make better lives for them all, including her aging mother. But this dream quickly turns to a nightmare when her mother is diagnosed by Alzheimer's and descends into confusion and anger. Then there are hard decisions about how to survive in this new world - decisions that can haunt forever.
Brothers by David Cameron (Also an outstanding duo)
Laser Tag, Baseball, and Brotherhood. Several years after Troy's mother dies, his father remarries and leaves Troy with an over-eager step brother, Lance. After spending some time with Lance, Troy quickly finds inspiration in the actions of his younger step brother. As one of their lives ends, they find it hard to see how they ever lived without each other. The newest play by Dave Cameron, author of the NFL Final Round HI "Finding Ryan."
Thomas More Doesn't Know Me by Sarah Weiner
Emily Louis is a typical overachieving college student — smart, practical, and witty. In this monologue, she tells the story of meeting her former best friend, Mickey, and explains the dark truth about why their friendship ended, and how she has managed to move on. The story offers a striking and realistic look at campus sexual assault through the eyes of a very complex character.
Duos
How Much I Love You 
[Two Characters / Two Girls]
Best friends Lucy and Charlotte spend time reliving past memories together as Lucy visits Charlotte on her deathbed. They revisit the humor of terrible dates, the birth of Charlotte's first child, pierced ears and sleepaway camp, and arrive at a beautiful conclusion as Charlotte asks Lucy look after her family after she's gone. A heartfelt, heartbreaking duo from the author of last year's hit Birthday Candles.
 Unplugged by Naomi Yang
[Multi-Character / All Performers]
Instagram, Snapchat, iMessage, Musically, and more... these social media apps all come to life on one girls phone, fighting for her screentime! A clever comedy that twists the question of too much screen time into a matter of life or death.
Declined
[Two Characters / Two Girls]
Olive's trying to buy a smoothie, but her credit card keeps getting declined. So she turns for assistance to her friend Mary, who really needs to study for her test today. Why is Olive so persistent? The answer will surprise you in this fast-paced comedy perfect for performers of all levels. 
STOP! by Ray Nesrym
A Driver's License: the ultimate prize for teenagers. Only one thing stands between this kid and his motorized freedom: his mom. In a scene all-to-familiar to many children and parents, this mother is determined to teach her child exactly how to drive safe, even if it means they both have a nervous breakdown in the process. A cringe-worthy laugh-fest that will have contestants and judges alike nodding their heads in recognition.
Countdown to Love by Andrew Messer
Speed dating is always a recipe for disaster. But when John plunges into Super Speed Dating, he meets an array of crazies, con-artists and maniacs that could make anyone's head spin. After going through a dozen girls in eight minutes, is he left with anything but a sense of despair? Find out in this breakneck-paced comic scorcher.
The Merchandise King by Clyde Hendrickson
A parody of The Lion King that mocks Disney's ability to make everything a marketing gimmick. The star-studded supporting cast includes the Crocodile Hunter, William Shakespeare, and a disenchanted sea slug. Already shown to succeed as a theatrical show and a national tournament contender.
Black Fedora by Ray Nesrym and Daniel Smedema
When Fettucini Alfredo is murdered, his son, Linguini, comes to Black Fedora, Private Eye, and hires him to look for the killer. Black visits the crime scene, the bar, and mafia leader Tommy Gun in search of the culprit. However the conspiracy runs deeper than Black could ever have imagined. In a world of lies, organ music, and product placement ads, can Black manage to close the case? Or will he end up closing shop instead?
Cavegirl Teaches Evolution by Clint Snyder
After being stuck in a block of ice for thousands of years, Cavegirl awakens to a new scary future, where her primary guide is a preppy valley girl named Brittany.  The two become fast friends, and Brittany learns that Cavegirl is surprisingly good at solving the problems of modern high school life. A piece that's a lot of fun for one or two talented female performers.
Everyone's Gonna Die by Clyde Hendrickson

In this frantic and hilarious show, a pair of best friends with multiple-personality disorder attempt to reenact the entire Trojan War. High energy laughs and ridiculous historical references are everywhere. An award-winning piece proven to succeed onstage and in final rounds.