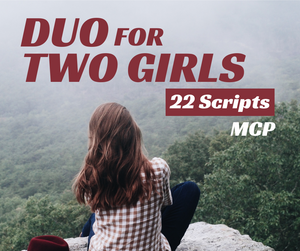 Instantly download 22 of our best scripts for two young women to perform together, at one low price. These scripts are tournament-proven and NSDA approved. 
Scripts Included: 
 New! How Much I Love You by K.R. Schneider

[Two Characters / Two Girls]
Best friends Lucy and Charlotte spend time reliving past memories together as Lucy visits Charlotte on her deathbed. They revisit the humor of terrible dates, the birth of Charlotte's first child, pierced ears and sleepaway camp, and arrive at a beautiful conclusion as Charlotte asks Lucy look after her family after she's gone. A heartfelt, heartbreaking duo from the author of last year's hit Birthday Candles.
New! Rush Hour by Stephanie Christensen
 FF Duo or Humorous Interp
Jasmine can't stand her brother's girlfriend, Cary Anne, which makes things very awkward when they end up in the same ride share together. Over the course of a bumpy ride, the two women come to an understanding, with lots of laughs along the way. A fun, humorous duo for two performers of any skill level.
New! Princess and the P by Steve DuBois

[Multi-Character or Two Characters / Two Girls]
Mynda, the Princess of Lexico, realizes that all the problems facing her father's kingdom start with the letter "P" - Poverty, Pestilence, Patriarchy, and more! So she asks a witch to ban the pesky letter for good... and the results are preposterous! An absolutely one-of-a-kind comedy that will have performers trying all kinds of new things, such as skipping the letter "p" for whole lines of dialogue! Includes author notes for splitting characters between two actors. 
New! Declined

[Two Characters / Two Girls]
Olive's trying to buy a smoothie, but her credit card keeps getting declined. So she turns for assistance to her friend Mary, who really needs to study for her test today. Why is Olive so persistent? The answer will surprise you in this fast-paced comedy perfect for performers of all levels. 
New! Unplugged by Naomi Yang

[Multi-Character / All Performers]
Instagram, Snapchat, iMessage, Musically, and more... these social media apps all come to life on one girls phone, fighting for her screentime! A clever comedy that twists the question of too much screen time into a matter of life or death.
Birthday Candles by K.R. Schneider - Our #1 Duo of 2018
Twins Samantha and Sawyer celebrate their twenty-third birthday reminiscing on past experiences together: silly arguments, broken arms, first kisses, etc. As the girls reminisce, the story builds to an emotional revelation that Sawyer was killed in a car accident when they were 19, and Samantha has kept the memory of her sister alive with their imagined chats. A funny but poignant piece ready to wow in break rounds.
The Duffing of Eunice Powell by Tracy Winters
Eunice Powell is not like most girls. Last year, she won Most Likely to Own a Zaxby's Franchise. This year, she's in love with the coolest guy in school. After passing out at a football tryout (which doesn't go well), Eunice reflects on life, love, and what it means to own who you are.
Cavegirl Teaches Evolution by Clint Snyder
 After being stuck in a block of ice for thousands of years, Cavegirl awakens to a new scary future, where her primary guide is a preppy valley girl named Brittany. The two become fast friends, and Brittany learns that Cavegirl is surprisingly good at solving the problems of modern high school life. A piece that's a lot of fun for one or two talented female performers.
A Girl's Guide to Science by Clyde Hendrickson
Two girls - one a science geek, the other a popular kid - are forced to give a science safety demonstration together for the freshman class. Their antics devolve into a postmodern feminist throwdown, complete with acid fights, hallucinations, and fig newtons. When the flames die down, the two are left to uncover the mysteries of nerdiness and popularity.
Mother-Daughter Dialogues by Clyde Hendrickson
The best female-female duo script we've seen yet features a lifetime of a tumultuous mother-daughter relationship condensed into its most important moments, including: prom, college, the sex talk(s), marriage, pregnancy, divorce and disease. Filled with classic one-liners and touching, true-to-life moments, this play will be perfect for performers wanting to do an HI with a message or a DI with wit, or two girls looking for a truly entertaining Duo or Duet.
Girl in the Picture by Taylor Shann
When you grow up, you can grow closer to your friends. Sometimes, you can grow away from them. Jodi and Layla, two lifelong friends trying to survive the hell of high school, are in danger of doing just that. Miscommunication, music, instant messaging and a Christmas gift are all clues in this deconstruction of how fragile friendship can be. A 30 minute play of short scenes that can be easily cut down to fit a variety of dynamics between performers.
The Ultimate Drama by Garlock & Taylor
Ever see the dramatic moment of a play one too many times? This sarcastic and fast-paced satire mocks the overabundance of melodrama in modern playwriting and acting. Many of those dramas you love to hate are roasted in this fiery oven of hilarity.
Good Morning, Glory! by Ryan N. Ray
Glory, a rich and snobbish woman who is extremely lazy and loves nothing more than her morning pop tart alongside her bachelor of the day. Juanita, Glory's Spanish housemaid who just happens to be narcoleptic and, unbeknownst to Glory, a prankster. The two clash in unexpected ways, and both are under the other's power more than they anticipate. Great dialogue for your most talented female performers.
Unfunny by Mike Beede
In Unfunny, an eccentric woman named Norma confronts the myth that women are not funny. Her research leads her from the Garden of Eden to Dr. Laura, with many humorous stops in-between. This play is our best bet for female performers looking for that perfect humorous piece.
Beauty Boot Camp by Marissa Malloy 
A desperate girl embarks on an insane training regimen with a more popular classmate in hopes of landing a prom date with the guy of her dreams.
Locked Away by Martin Aloia
Two women from completely different backgrounds end up as cellmates in prison.  Their story is at times awkward, at times hilarious, always a little tense, and ultimately, touching.  A beautiful little piece for two very expressive female performers. 
Miss Erma Deveraux's School for Civilized Young Ladies by Clint Snyder 
After being dropped off at Miss Deveraux's school, one sheepish girl learns what it takes to survive an etiquette teacher who has a lot in common with a strong-willed french dictator. A high-energy duo for two female performers who want to scream, yell, and get big laughs - and it could be just as fun performed by two guys.
The Emancipation of Mister Tinkles by Clint Snyder
After having her fill of his master's foibles and follies, Miss Polka's dog decides to confront her and put an end to the suffocating relationship. However, through their unusual conversation (For instance, Mister Tinkles revealing she can talk and is actually a girl), they find they have more in common than they once thought, leading to a ridiculous twist at the end.