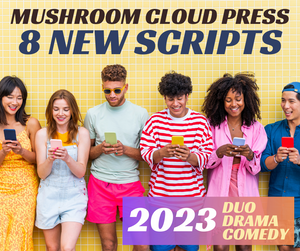 The vibes are incredible for this batch of intriguing and inventive interp scripts. These are brand new, never-before-performed pieces for the 2023-24 season. 
For December only, we've upped the deal to 🔥🔥🔥 — this collection is now only $16.99.

Ready for a big W at your next tourney? This collection holds the key: Comedic moments that will bring the LOLs, characters with plenty of spice, and dramatic crescendos that will alter your brain chemistry.  The stories here will live rent-free in your audience's heads long after the round is over.
Every script is cut and formatted to begin rehearsals today. Our authors—coaches, former competitors, and professional playwrights—know what works for students and what judges want to see next.
If you want to perform something no one's seen before, you will find that exciting new piece in Mushroom Cloud Press's 2023-24 collection.
8 NEW SCRIPTS INCLUDED
The Chess Piece Piece by Tom Mizell
Multicharacter banter and big laughs for HI or Duo
The kingdoms of the chessboard are preparing for the next battle in their centuries long war. The White King (along with his trusty advisor, the Bishop) assembles his army: octuplet pawns who can only march a single step, the bravest knight in the kingdom (a horse!), a moving building, and his own wife! Will they be ready in time for war? A quick witted piece with a Monty Python-level of ridiculous rhetoric.
Dinosaurs Love Chips by Matt Mills
Incredibly high energy cringe comedy monologue
Ellie Fae is a bubbly, bold, but irresponsible fifth grader—so irresponsible that she totally forgot to do her very important end-of-the-year science report. But a lack of preparation isn't enough to stop Ellie; she's going to give the best-unresearched presentation of all time! Or fail trying. Brilliantly written free-association that will absolutely take home first place in humor competitions everywhere. You'll feel like you're forgetting your piece even as you have your entire audience rolling on the floor.

Under a Curtain of Stars by Matt Mills
Strange, Introspective DI monologue straight out of a Black Mirror episode
 Sam Fowler has accomplished everything they've set their mind to, earning a multitude of prestigious degrees on their way to becoming a decorated astronaut. But while Sam's body returned from space months ago, their mind is still struggling to reacclimate. Will Sam ever be able to truly come down from orbit?
Everything Bagel by Cam Eickmeyer
Dramatic duo with a moving twist and heartwrenching ending
A young man's quest for adventure pushes his elderly roommate to explore life beyond their walls, before reality starts to interfere in their conversation. Neither roommate is who they appear to be… or can do as much as they'd like to change their situation.  A touching piece that reveals the impacts of aging and the universal struggles that bind us.
The Ruler by Frank Smith
Literary monologue for nuanced performers
This is the eternal tale of friendships lost and found while growing up and growing wiser. An intricate story, beautifully told, that does something rare for speech pieces: creates drama with no violence or tragedy, just life and learning.  
Ringing by Frank Smith
A dark, dramatic monologue with a classic dramatic structure and lots of grit

A detective is stunned when his fiancé goes missing out of nowhere. He's even more stunned when he finds him...and discovers he left their home on purpose. The detective then tries to piece together the last several years of their relationship, and uncover how it all went so wrong, and how he was so oblivious.
Press Play by M.K. Hill
Mainstream comedy perfect as a duo or HI for new performers
A couple sits down to watch a movie. Or, that's the plan. Over the course of 10 minutes, distractions, interruptions, and weirdness interfere with their date night… and may even crumble their relationship. Will they ever… press play??
After You by Matt Mills 
A duo of manners (and lack thereof) that can be played with two or more characters
Two cutthroat lawyers lock horns in a bitter case that decides which one should walk through a door first. I insist, your honor! Literally, that's the whole play. Deciding who should walk through the door first. Tons of fun.