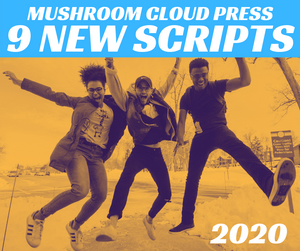 2020's fresh batch of monologues, duos, and multi-character pieces ready for DI, HI, Duo and Duet competition!
Your team can be the first to wow judges and win rounds with these outstanding new pieces from our experience authors, written and selected specifically to excel in student speech & debate competition.

They're still on sale this fall at 30% off! 
With your purchase of this digital script collection, you'll instantly receive a link to download your pieces so your students can start with brand new, competition-ready pieces now. 
Take a look at the amazing array of scripts included: 
An Introvert's Guide to Quarantine by Mike Noland
Humorous Interp, Monologue
In this stand-up style short play, our shy narrator discusses staying at home during COVID-19 isn't so bad, despite some interference from parents and the new inconveniences of online school. Plenty of opportunities for laughs in this light, fun piece with a heartfelt ending. Note: the author has provided a few alternate lines to make the script work for guy or girl performers. 
Screaming Timmy Must Die by Steve DuBois
Humorous Interp or Multi-Character Duo
A dark comedy of elementary school madness! At Mephisto Elementary, the premier school for young supervillains, evil abounds. But even the toughest baddies are no match for Screaming Timmy, a young man with a talent for driving others mad with his patented shriek. So the mischievous students must team up to stop Timmy… which is easier said than done when they're all, well, very bad. Quick wit and clever super hero sendups abound in this maniacal multi-character script.
Rush Hour by Stephanie Christensen
FF Duo or Humorous Interp
Jasmine can't stand her brother's girlfriend, Cary Anne, which makes things very awkward when they end up in the same ride share together. Over the course of a bumpy ride, the two women come to an understanding, with lots of laughs along the way. A fun, humorous duo for two performers of any skill level.
A Trip Through "Monte Carla" by Elly Bogle
Humorous Interp or Multi-Character Duo
A fast-paced twist on the typical "everything that can go wrong, will go wrong" short play. Carla's parents get secretly divorced, her boyfriend tries to kill her, her mom dies and her dad disowns her, and she contracts a lot of disease. But she keeps her head on straight and stays witty to the end, even when the end is very dark. There's a laugh in every line in this outstanding HI and Duo that will have audiences everywhere falling for Carla (sort of).   
Soccer Moms (and a Dad) by Clint Wooderson
Humorous Interp or Multi-Character Duo
Matt, an easygoing dad, somehow gets talked into coaching his son's soccer team.  While neither the dad nor child are excited about the season, the moms of the other players have more than enough enthusiasm to make up for it. Their demands and complaints power a journey of discovery for Matt… discovering that coaching his kid's soccer team is worse than he could possibly imagine! Cute, clever, and plenty sarcastic.
Tutoring Session by Ellie Lynch
Male / Female Two-Character Duo or Humorous Interp
It's a classic story. A nerdy girl tutors the football jock she has a crush on, then they fall hopelessly in love! Except, in this case, poor Eunice doesn't get Frank the jock at all, thanks to a clever twist at the end. Quick dialogue and likeable characters make this a duo that will shine for performers with a great rapport.
My All-Time Favorites by Frank Smith
Dramatic Interp, Monologue
A teacher gets a surprise visit from one of her old students, whom she can't quite place. In attempting to remember him, she reminisces about several of her favorite students... including one whom she suspected of being abused by his parents, but couldn't save before his family moved away. She seems to be reliving the whole ordeal all over again, devolving into tears, but in a twist happy ending, the student visiting the teacher IS that student she thought she didn't help. And thanks to his teacher's intervention, his life turned out very well indeed. 
Fighting Stance by Frank Smith
Dramatic Interp, Monologue
A gay 20-something man recounts the story of his emotionally abusive first boyfriend. Specifically, how the man's love for karate and its tenets allowed him to escape that toxic relationship and find peace in his own identity - in a way that the boyfriend never could.
It's A Girl Problem by Josephine Kelly
Dramatic Interp, Monologue
This piercing monologue explores the world of Anorexia Nervosa from a male point of view. Stereotypical views make this a female issue, but teen also boys look at their own bodies, and then compare their bodies to the ripped and toned bodies they see in movies and magazines, feeling they come up short… and the consequences can be disastrous. Our narrator here is compelling, unique, and a voice that must be heard, created by an author who shares a deep empathy with her character.