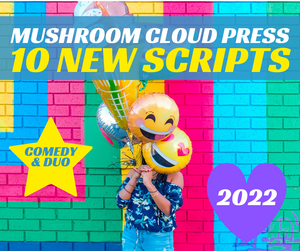 Instant savings! Take $20 off to get this collection for $29.99 right now!
Big Characters,
Bright Dialogue,
Brand New Stories!
This year, make a big splash as soon as the performance starts with these wildly inventive, uproariously funny new comedies and duos from Mushroom Cloud Press. 
You'll stand out on stage and impress judges with these scripts crafted to let student performers shine. They're ready for rounds as soon as you download, with minimal cutting and maximum fun. 
Our new scripts often become classics before the year is done. Don't wait! Grab our instant download for 50% off and get started today.
Plays Included
Beauty & the Beast: Human Resources by Kevin Burgun
Multi-character Duo or Ambitious HI
When a witch curses your employer with a love spell that turns you and all your colleagues into common household objects, it can cause a lot of performance issues and workplace conflicts. In this wry satire, the witch returns to the beast's castle the morning after placing her curse to walk the coat rack, plate, broom, cup, foot stool, etc. through the ins and outs of their new cursed life in typical corporate human resources style. Want to have a lot of fun with the characters of a well-known animated movie? Then this is the piece for you.
The Ad Lib by Kevin Burgun
A Fast-Paced Duo or HI with a Postmodern Twist
Alex and Jordan are the Rosencrantz and Guildenstern of the speech round: Trapped up at the front of the room performing, saying the words in the script even though they want to be free. Or is that part in the script too? As this doomed pair figures out they'll never escape, watch as panic begins to set in (according to the stage directions). This meta-comedy that has two performers exchanging some of the best rapid-fire dialogue we've ever published. Without ever breaking character, this genius script breaks every rule.
Anxiety Versus You by Shawn LaSota
Two-Character Duo or a Charming HI
Do my friends hate me? Will I ever find love? Will my favorite celebrity couple die in a nuclear war tomorrow? Anxiety is like glitter after a toddler' birthday party: It's everywhere. Told in the style of self-help seminar where the figurative becomes literal, this piece features an anxious narrator speaking directly to her anxiety. As the narrator works the various ways to soothe anxiety, Anxiety the character fights back—but is ultimately put to bed, if not quite defeated. A fun and surprisingly inspirational comedy.
Swipe Up! by Clyde Hendrickson
Two-Character Duo (Although one character goes through a LOT) or High-Energy HI
Val's addicted to her phone—and a new gadget will take it to the next level. Val just needs her best friend Nik to play along. For 10 rollercoaster minutes, the pair dive inside of TikTok, where Nik is forced to act out viral dances, weird personal stories, insane glow ups, and stuff too strange to explain. Will their friendship survive the next swipe up? Energetic performers with big presences will make many memorable, laugh-out-loud moments with this manic script from Clyde Hendrickson, the king of 10-minute comedies.
The Leak by Gavin Barker
Two-Character Duo, Dark Comedy, or a Drama with Laughs
You might say Bert and Hank's friendship has sprung a few leaks… if it really is a friendship at all. Bert finally convinced Hank to come on a canoe trip with him, even though Hank thinks Bert is pretty annoying (and may be right). The pair must navigate their rocky friendship in the most stressful (and metaphorical) situation possible: their small boat is sinking. Can they stop bickering in time to save themselves? The best part of the script is the ending, which can be played either as pitch-black comedy or tragic twist… whichever way you choose, it's a perfect duo.
Dinner Dilemma by Mike Noland
Two-Character Duo
Bud is smitten by a pizza-delivery girl wearing a disc-golf shirt. So, he does the first thing that comes to mind: he tips her $20 and asks if they can play disc golf together, even though he hates the sport and has no idea how to play. Fortunately, Bud has his sarcastic, mocking roommate Jim to "support" him through the crisis. Jim delights in mocking Bud until he realizes that if Bud screws this up as usual, neither of them can order delivery from their favorite pizza place ever again. A laid-back conversational comedy that will be fun for novices and veteran performers alike.
The Furious Fists of Julia  by Kevin Burgun
Multi-character Duo or Action-packed HI
You shouldn't take bites out of other people's yogurt. Especially not Julia's yogurt. For while Julia may appear to be a mild-mannered office drone, she has a past. A past as someone whose job it was to kick major butt. Now, she's after Riley, her coworker who ate the yogurt, and her furious fists will stop at nothing to get her revenge. But wait! Was Riley part of this secret past? Is the ending a surprising battle between the two? The answer is always "more punching" in this parody of the action-revenge genre that will challenge the choreography skills of performers and raise the heartrate of audiences.
It's an Emergency! by Lisa Ridarelli
Two-Character Duo
After several months, Paloma finally feels she is starting to get over her ex, Sergio, who left her just weeks before their wedding. The last person she wants ringing her doorbell is Sergio, suddenly determined to win her back. Through a series of disguises and ruses, Sergio talks her into letting him in, but getting into her good graces again will take quite a bit more. This anti-romantic comedy pits two clever characters against each other in a delightful duel of hearts and wit.
Shakespeare in Like  by Shawn LaSota
Two-Character Duo
William Shakespeare tries make his lady swoon by reciting his new sonnet to her. Unfortunately, the beautiful truth does not turn out to be as flattering as intended, and this particular mistress does not mince words with her dissatisfaction. Willy has to dig out some old classics in order to win her heart, for a moment at least. A silly and satisfying duo that would be ideal for new competitors or Shakespeare fans. 
Shotgun Diplomacy by Taylor Shann
Historical Satirical HI or Multi-Character Duo
In 1972, President Dick. Nixon. Met with the leaders of the People's Republic of China.  At the same time, the Vice President Agnew sent a different team of high-level White House aides to secretly meet with Kremlin negotiators in Alaska. Leading the mission? A promising young aide named Richard Cheney. However, after two days the meeting ended abruptly, with several people having to be air-lifted out of the area. But according to official records, both Soviet and U.S… none of the following… ever happened.